We Can Help You File Taxes
Tax season is upon us and we want to help make the process of filing your 2019 income taxes as simple and painless as possible. We've created a guide for our members. Here's what you may need from us to prepare your taxes.
*The Treasury Department and Internal Revenue Service announced that the federal income tax filing due date is automatically extended from April 15, 2020, to July 15, 2020. Learn More
Form 1099-INT for each person:
To whom you paid amounts reportable in boxes 1, 3, and 8 of at least $10,
For whom you withheld and paid any foreign tax on interest, or
From whom you withheld (and did not refund) any federal income tax under the backup withholding rules regardless of the amount of the payment.
Your 1099-INT information was included at the end of your December month-end statement.
Select the My Documents tab to access your 1099-INT and all monthly statements
Please Note: Your 1099-INT is also available on the mobile app by tapping More > eStatements > Tax Statements
Form 1098 is used to report mortgage interest of $600 or more received by you during the year in the course of your trade or business from an individual, including a sole proprietor. The location of your 1098 Form all depends on loan servicing, but both are easily accessible.
Honor or Neighborhood Mortgage Solutions
You will receive a Form 1098 in the mail by the end of January (mailed separately if interest expense exceeds $600).
You can access it electronically by February 1st within online banking.
You will receive a Form 1098 in the mail by the end of January. 
Access it electronically if you're enrolled in Midwest's online account.
Once you've gathered all of your required tax documents, here are some important details you'll need for the filing process to ensure a seamless delivery:
Honor Routing Number: 272484852
Account Number: You must provide your full account number, including the specific three digit sub-account suffix (do not include any dashes or spaces) in which you would like your funds deposited.
Example: 20012345

001

– the last three digits are your specific account suffix, such as checking, or a specific savings account.
To find your account suffix, log in to online banking or Mobile Banking and you will find the three-digit suffix listed next to the account name.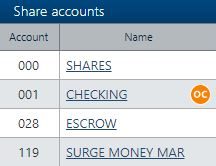 Mobile Deposit Your Refund Check
We know filing taxes can be stressful enough, so instead of trying to find time to get to your local Honor member center, you can simply deposit your physical refund check using the Honor app! It's free to use and only takes a few taps.
How To Make a Mobile Deposit
Please Note: To avoid any delay, please be sure to include "For HCU Mobile Deposit Only" when endorsing the check.
We've answered some of the most frequently asked questions about mobile check deposit.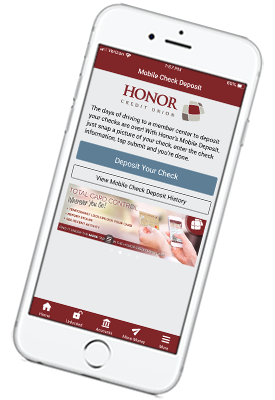 Download Our Mobile App Today!