Enjoy Low Rates and Rewards
Finding the right credit card option can be complicated, from navigating interest rates to discovering hidden fees. Unlike big banks, we strive for a simple experience without all the fees. Whether you are looking for a credit card with rewards, or a card with a low rate to make it easier to pay off your balance, we've got you covered with an Honor Select or Select Rewards credit card!
Card Options Designed For
Your Personal Lifestyle
Competitive Low Rates As
Low As 9.99% APR*
No Annual Or Balance
Transfer Fees
Pay With Your Phone Using
Your Digital Wallet
Earn DOUBLE Reward Points!*
Take Advantage Of This Limited Time Offer!
When you use your Select Rewards credit card now through December 31st, you will earn DOUBLE reward points on EVERY purchase. That's 2x the cash back, or 2x the points towards a new TV or the latest device, or maybe a winter vacation getaway.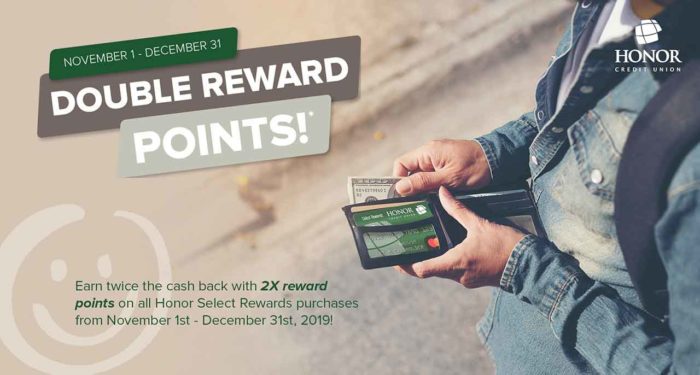 *Qualifying transactions must be purchase transactions and earn at least one point between November 1, 2019 and December 31, 2019. Balance transfers, refunds/reversals, fees, cash advances and ATM transactions do not qualify. Account must be opened through February 29, 2020 to earn rewards. Existing cardholders and new cardholders both eligible for bonus reward points. Bonus reward points from qualifying purchases do not post in real-time and will be awarded by February 29, 2020. Rates, terms and conditions are subject to change without notice. Some restrictions may apply. Credit card approval depends on creditworthiness and other qualifications. Insured By NCUA.
Transfer a Balance &
Pay No Interest For 12 Months!
Take Advantage Of This Limited Time Offer!
It's easy to swipe or insert your credit card to pay for things and not think twice. Over time, your balance can get out of control. Now, it's time to defrost that old credit card balance! For a limited time, when you transfer the balance of a credit card from another financial institution, you will pay No Interest for 12 Months!*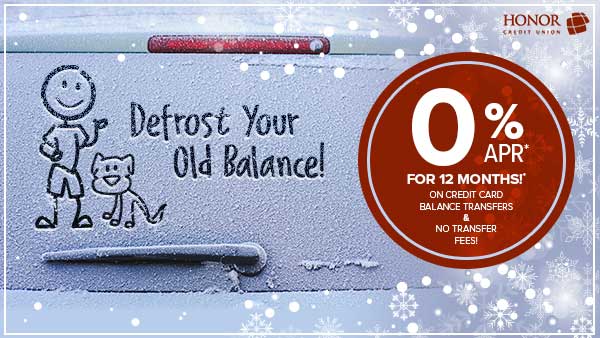 *0%APR promo rate applies to balance transfers of $500 or more to an Honor Credit Union Credit Card from a non-Honor Credit Union credit card. Purchases and cash advances excluded. Balance transfers must be completed by March 31, 2020. Rate is valid for 12 billing cycles from posting date of first transfer, after which the introductory period ends, the standard purchase APR applies. Standard variable APR: 9.99% to 25.00%, based on your creditworthiness and other factors. The annual percentage rate (APR) will vary with the market based on Prime Rate. Business Mastercard does not qualify for promotion. New and current cardholders eligible. Credit card approval depends on creditworthiness and other qualifications. Rates, terms and conditions are subject to change without notice. Insured by NCUA.
Select
Select Rewards
No Annual Fee
No Cash Advance Fee
No Balance Transfer Fee
Credit Limits Starting at $500
Can Be Used with Digital Wallet
Lowest Interest Rate
Earn 1 Reward Point For Every $1 Spent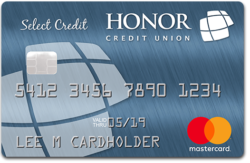 Members who carry a balance from month to month
Enjoy rates as low as 9.99% APR*
No balance transfer fee, annual fee, or cash advance fee
Works with Apple Pay, Google Pay, and Samsung Pay
Select Rewards Credit Card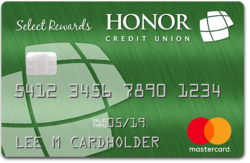 Shoppers who are interested in earning rewards for their purchases
Members who typically pay their balance off each month
Using with no annual fee, balance transfer fee, or cash advance fees
Earn 1 reward point for every $1 spent
Rewards can be redeemed for gift cards, merchandise, travel, and more!
Earn 1% cash back on purchases
Credit cards sure are easy to use, aren't they? One day your balance is low and the next thing you know you have a higher balance than you remember spending! Whether it's the result of a shopping spree, or a large transaction, we can help ease the burden of a high interest credit card with a simple balance transfer to an Honor credit card.
We believe in a personalized approach at Honor Credit Union because everyone's situation is different and we will guide you through the process of transferring your balances to an Honor credit card that suits your needs with a low interest rate so you can start knocking out those credit card balances.
Must have an Honor Select or Select Rewards credit card
Must know the balance of the credit card(s) you want to transfer
What do you get the person who has everything? A Visa Gift Card or a Reloadable VISA Travel Card might be the perfect simple gift you're looking for. Our Visa Gift Cards are like a regular Visa because they are accepted pretty much anywhere, and will be the one gift you know you won't ever get returned! Stop by any local Honor member center to setup a reloadable card or to purchase a gift card.
Enjoy the convenience of spending money when and where you want to
Can be used anywhere Visa cards are accepted
Can be loaded in amounts from $10 to $1,000
Card will expire no sooner than five years from the date of issue
Can be used anywhere Visa cards are accepted
Can be loaded in amounts of $100 to $5,000
24/7 live operator support, lost and stolen card reporting services, and cardholder inquiry services
* There is a $5.00 new card fee. Reloading and inactivity fees apply. See all fees on our Disclosures page.
Shopping has never been easier with solutions like Apple Pay™, Google Pay™, and Samsung Pay™. There's no reason to lug around a thick wallet or big purse with credit cards and debit cards. Simplify your life by making your purchases with the touch of your finger by connecting your Honor debit card to your phone today.
Apple Pay – Use your eligible iPhone, Apple Watch, or iPad to conveniently make purchases at participating merchants.
Google Pay – Android users can use their phone to make payments at more than one million stores across the United States.
Samsung Pay – Members with eligible Samsung phones can make payments to earn reward points redeemable for instant-win opportunities and other deals.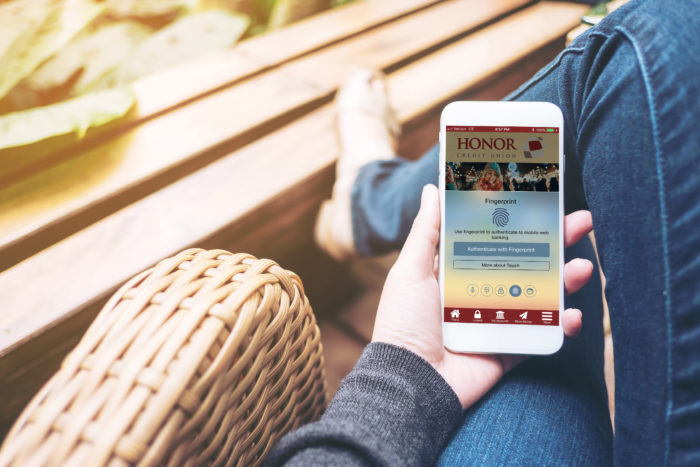 CU*Talk
Voice Banking: 866.267.4348
MasterCard Debit & Credit Cards
General Card Support (including lost or stolen cards): 800.442.2800
Out of the Country Emergency Numbers*
* Collect calls are accepted
If you're planning an international trip, keep us informed by stopping by a member center or giving our Virtual Member Center a call at 800.442.2800 to let us know to expect transactions from your desired destination.
Beware of blocked and sanctioned countries. For a current list of these countries check out the Office of Foreign Asset Control (OFAC) of the US Department of Treasury's list. If the country you are visiting is on this list, ALL card activity will be blocked per the requirement from OFAC. On occasion, Honor Credit Union may block countries in addition to those listed on the OFAC list, but should there be additional countries, they would be listed here. 
If you suspect fraud you can turn your card off instantly from within the Honor mobile app.
Honor debit and credit card holders are automatically enrolled in our free card protection program. Cardholders can sign up for additional free MasterCard fraud services.
If we suspect fraudulent activity, the transaction will likely be declined and your account will be blocked to prevent further harmful activity. We will attempt to notify you as quickly as 30 seconds after a suspicious transaction takes place.