Pay off Credit Card debt faster
Credit card balances can get out of hand in a hurry. Whatever your situation is, we can help you get back on track with a credit card balance transfer.
Transfer Multiple
Card Balances
Pay No Interest For 12 Months!
It's easy to swipe or insert your credit card to pay for things and not think twice. Over time, your balance can get out of control. Now, it's time to defrost that old credit card balance! For a limited time, when you transfer the balance of a credit card from another financial institution, you will pay No Interest for 12 Months!*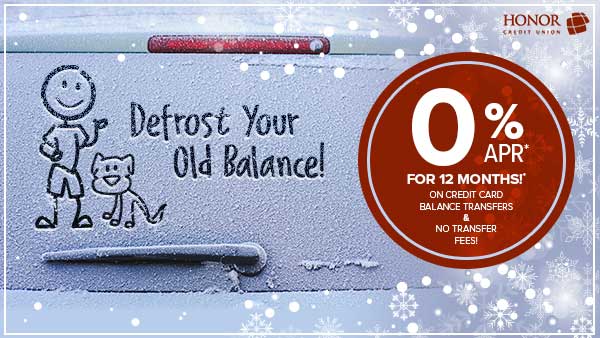 Are you an Honor member with an Honor Select or Select Rewards Credit Card?
IF NO, we recommend applying for one so you know how much you can transfer.
For Non-Cardholders/ Members
The first step is to apply for an Honor credit card. If you're not a member, you will be prompted to open an account during this process. Here are a few things non-members will need:
Social Security Number
Driver's License
Contact Information
You need to know the balance of the card(s) you want to transfer
All forms are processed during normal business hours Monday – Friday
An Account Specialist will contact you within one business day and guide you through the rest of the process
Transfer any existing credit card balance to a low-rate or rewards-earning credit card. 
With a lower rate, more of your payments will go towards your principal balance so you can pay off your debt faster!
We will guide you through the balance transfer process to find the best solution for you!
Many banks charge a balance transfer fee between 3-5 percent of the transfer amount. Not us! We're here to help you achieve financial success.
Along with no balance transfer fees, we also don't charge annual fees or cash advance fees on any of our credit cards.
Because we don't charge a balance transfer fee or annual fee, you can pay off your balance faster.
*0%APR promo rate applies to balance transfers of $500 or more to an Honor Credit Union Credit Card from a non-Honor Credit Union credit card. Purchases and cash advances excluded. Balance transfers must be completed by March 31, 2020. Rate is valid for 12 billing cycles from posting date of first transfer, after which the introductory period ends, the standard purchase APR applies. Standard variable APR: 9.99% to 25.00%, based on your creditworthiness and other factors. The annual percentage rate (APR) will vary with the market based on Prime Rate. Business Mastercard does not qualify for promotion. New and current cardholders eligible. Credit card approval depends on creditworthiness and other qualifications. Rates, terms and conditions are subject to change without notice. Insured by NCUA.