Manage Your Money Anywhere, Anytime
Honor Credit Union offers free Online Banking to all of our members. We know that you don't always have the time to come see us when you need access to your account. Not that we don't love to see your smiling face, but with Online Banking you can access your account no matter where you are or what time of day it is. We want your financial life to run smoothly, and It's Me 24/7 can help.
What You Can Do In Online Banking
Review the balance of your checking, savings, money market, certificate of deposit, and loan accounts
Transfer funds between your accounts, and to other members
Download account details to Microsoft Money or Intuit Quicken
Use our MoneyDesktop tool to create a budget to help you keep track of all of your accounts, even at other financial institutions
Set alerts for when automatic deposits or withdrawals are processed by clicking the eAlerts Subscriptions within Online Banking
Mobile banking doesn't get much easier or more convenient than with Honor Credit Union's Mobile Banking App! If you have a mobile device with Wi-Fi or cellular service, you have access to all of Honor's online banking services through our app, like checking your account balance, managing debit and credit cards, depositing a check, applying for a loan, and much more!
Mobile App Features Include:
Card Activity Notifications: Get notified on your mobile device when your Honor credit or debit card is used in a transaction
Card Management: Turn a card on or off, or report it stolen in near real time
Pay Anyone: If you have a payment due, or if you owe a friend money, send them money, regardless if they're a member or not
Remote Deposit: Deposit a check and access the funds within minutes through the Honor mobile app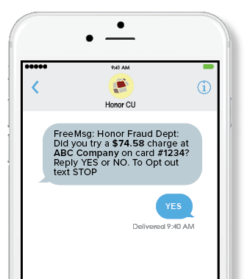 Few people enjoy the process of paying bills. Let Honor's CU It'sMe247 Online Bill Payment make your life a little happier and do the work for you and for FREE!
Save time and reduce stress by managing multiple bills
Setup automatic payments within your Online Banking
All payments are automatically logged in your checking account
Get notified if your balance is showing insufficient funds
Do you want faster access to your monthly statement in a more secure setting that also helps out the environment? E-Statements are your answer!
E-Statements are a FREE service offered to all of our Honor Credit Union members
E-Statements are available on the second day of every month, which is four to six days earlier than paper statements
Because they are always available in Online Banking, you don't have to worry about losing paper statements, and you're helping the environment
Login to Online Banking, hover over the "eStatements" button and select "Enroll Now!"

Please Note: Enrollment feature not available on mobile devices
Click the button next to "I would like to receive my statements electronically" and enter the email address where you would like your e-statement notice sent