Annual interest rate
Annual interest rate. Maximum interest rate is 20%.
Number of months remaining
Total number of months remaining on your original auto loan.
Loan term (months)
Total length, or term, of your original auto loan in months.
Auto loan amount
The original amount financed with your auto loan, not to be confused with the remaining balance or principal balance.
Additional monthly payment
Your proposed extra payment per month. This payment will be used to reduce your principal balance.
Current payment
Monthly principal and interest payment based on your original loan amount, term and interest rate.
Monthly prepayment amount
Scheduled payment plus additional monthly payment.
Total savings
Total amount you would save in interest if you made the accelerated payment until your loan was paid in full.
Members and non-members can refinance an auto loan held at another financial institution and receive 1.00% cash back up to $300 cash back.* PLUS, you can make no payments for 90 days!*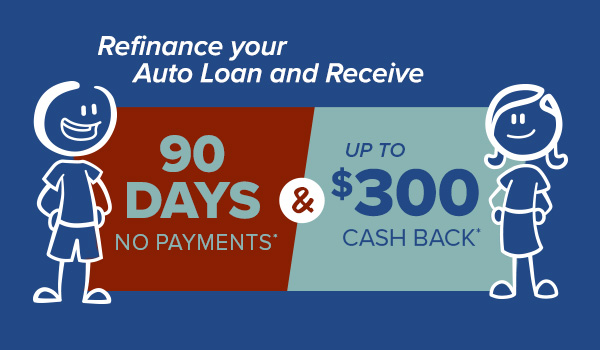 Cash Back Offer: 1.00% cash back is calculated based on the final total funded loan amount, excluding any ancillary products, with a maximum payout of $300.00. Minimum loan amount required to earn cash back bonus is $5,000.00. Cash back bonus will be paid out upon execution of final loan agreement. Deferred Payment Offer: Interest will accrue during 90-day deferment period. First payment must be made beginning in the 4th month, on the due date disclosed in the loan agreement. New auto purchases excluded, refinances only. Current loans held here at Honor ineligible. Offer subject to change without notice. This is a gift, please consult your tax advisor. Not valid with any other offer. Certain restrictions apply. Subject to credit approval. Limited time offer. Insured By NCUA.
Auto Loans
Enjoy competitive rates and a simple application or pre-approval process that only takes a few minutes!
Recreational Vehicle Loans
Whether it's a boat, trailer, motorcycle, or other recreational vehicle, finance your fun at Honor!
Information and interactive calculators are available to you only as self-help tools for your independent use and are not intended to provide investment or tax advice. We cannot and do not guarantee their applicability or accuracy in regards to your individual circumstances. All examples are hypothetical and are for illustrative purposes. We encourage you to seek personalized advice from qualified professionals regarding all personal finance issues.