Mosaic CCDA Partners With Honor To Purchase New Property In Benton Harbor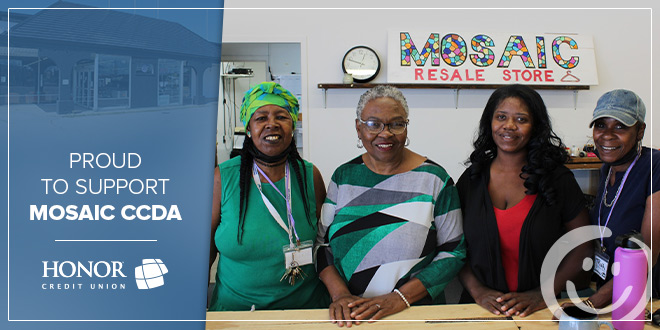 BERRIEN SPRINGS, MICHIGAN – September 21, 2021 – Honor Credit Union is a proud partner of Mosaic Christian Community Development Association (CCDA) and truly honored to assist in the relocation to its highly visible storefront located at 1804 M-139 in Benton Harbor, MI behind Henry's Hamburgers.
Mosaic CCDA is a nonprofit organization that is transforming lives in Benton Harbor, Michigan by empowering people in need through practical career skill-building, positive relationships and career opportunities. Mosaic CCDA's goal is to help people realize their potential, unlock hope in their future and achieve long-term success.
Mosaic's resale store has been their bread and butter since 2009. Through community donations, the store focuses on selling high end secondhand items such as furniture, appliances, clothing, household goods, and more. "Furniture is our focal point," states Mosaic's CEO, Andrew Robinson. "People love that they can get gently used furniture at a great price and that their purchase is going towards investing in the lives of the people in this community. Each purchase goes towards the mission, to provide job opportunities to residents in the community."
While Mosaic's previous location in the Benton Harbor Arts District was a great space for offices, it did not have the space needed for the retail store to thrive. Mosaic had to temporarily turn away donations for months due to the inability to add more items to their show room floor. With space and parking becoming a growing issue, the Mosaic team knew they had to search for a new location to continue to provide services to the community.
That's when they came across a once in a lifetime opportunity that would turn out to be the best offer to get the best visibility. "Honor's CEO, Scott McFarland stepped up when we started looking at the old Value Land property as an opportunity for purchase," said Robinson. "Honor has a heart for the community and for community transformation and knew this would an opportunity for us to grow the store, job training, and job development programs."
The 25,000 square foot building offers ample space for the resale store, offices, and space for Jobs for Life and on-the-job training programs. "We want this location to be a Hub for individuals who need support in other ways," said Robinson. "Summit Financial Wellness is going to have office space there for financial literacy and training. We are also working with New Heights CCDA for food distribution. We want it to be a hub in the area for community transformation and support to provide them with the tools to really succeed in life."
Mosaic Resale Store
The Mosaic CCDA Resale Store is a great place to shop, and it funds Mosaic Opportunities and Initiatives, and provides training for the Jobs for LoveTM program. The store is open Monday-Saturday 10:00am-6:00pm.
"The new space at Mosaic will allow the Summit to increase its presence in the community," said Barbara Sistrunk, Executive Director of Summit Financial Wellness. "This partnership gives us the opportunity to not only work with their Jobs for Life participants but enables us to offer financial education and coaching opportunities to a broader audience in a centralized area."
"Working with Honor on this has a great experience. I'm so grateful to Scott (McFarland), Kent (Figy), and Brian (Barber), they really came through for us," said Robinson. "The process was difficult because it had never been done before. But the crew was on it. I was getting calls, text messages, and support constantly from them. They had a laser like focus and did not stop to rest until the property was in our hands."
"Andrew was a pleasure to work with throughout the process," stated Brian Barber, Honor's Director of Commercial Lending. "We were happy to help him, and the Mosaic team make this much needed transition and look forward to seeing their positive impact in the community for years to come."
Mosaic CCDA's resale store is open Monday-Saturday 10:00am-6:00pm. For more information, visit https://mosaicccda.com.
Honor Credit Union is proud to serve more than 93,000 members across the State of Michigan.  Providing solutions for your financial success and giving back to the communities we serve remain the driving forces behind Honor Credit Union.  For more information, call 800.442.2800, or visit staging.honorcu.com.
###
MEDIA CONTACT
Halee Niemi
Public Relations Manager
hniemi@honorcu.com
800.442.2800 ext. 9501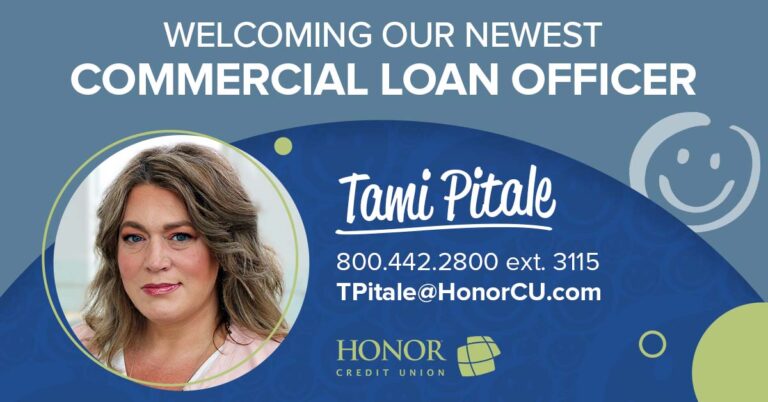 With 17 years of experience in the financial industry, Pitale will serve as the Commercial Loan Officer (CLO) for Battle Creek, Coldwater, and Greater Kalamazoo.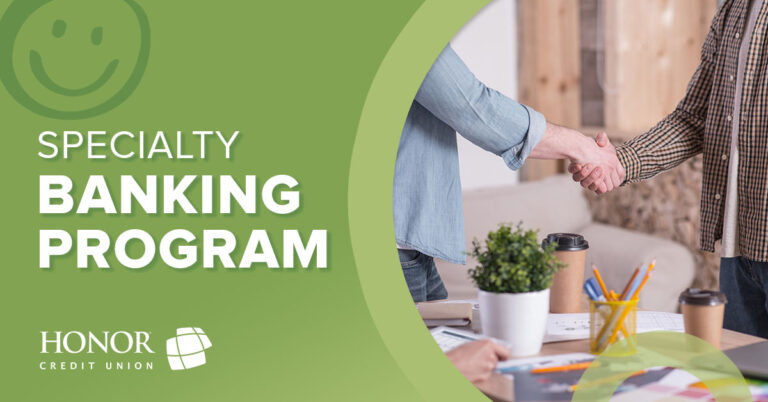 Honor's Specialty Banking Program is built around compliance and is a partnership focused on transparency and an eagerness to learn about the cannabis industry and each business.