Honor Celebrates Grand Opening of Bobcat Student Credit Union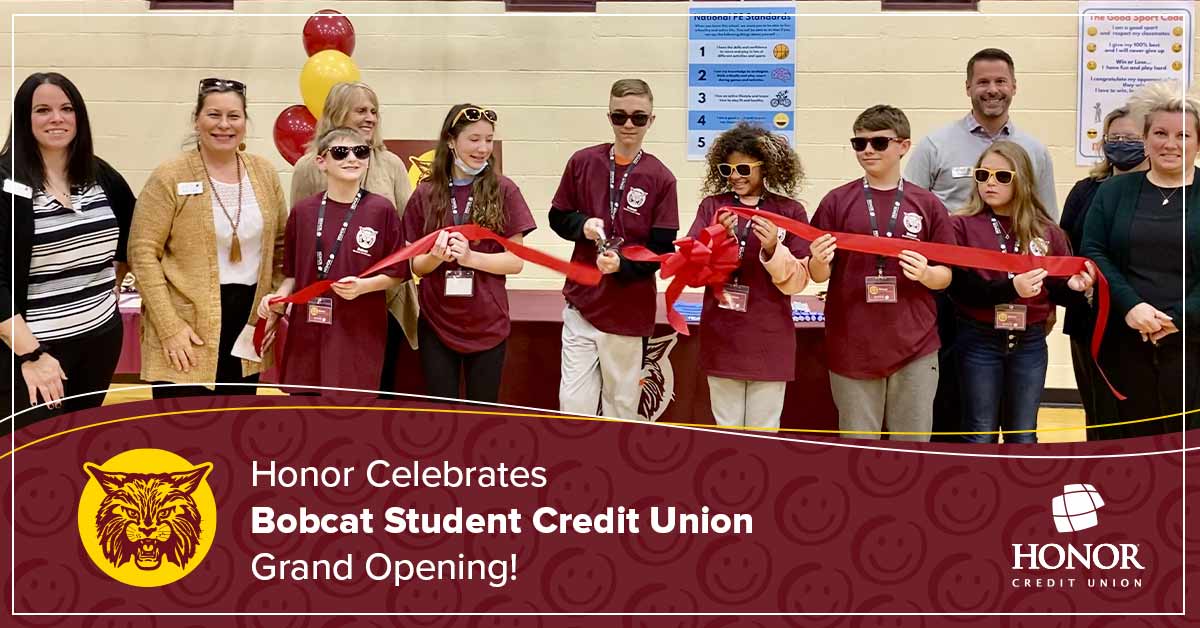 NILES, MICHIGAN – January 10, 2022 – Brandywine Elementary School celebrated the grand opening and ribbon cutting of the Bobcat Student Credit Union on Wednesday, January 5th. Leading the assembly was Honor's Community Assistant Vice President, Karol Behrle. Joining her in attendance were Honor team members, Michigan Senator Kim LaSata, District Director Daniel Carrick, Brandywine Community Schools Superintendent Karen Weimer, and Brandywine Elementary Principal James Boger.
Senator Kim LaSata and Honor's Karol Behrle spoke to the students about the importance of bringing a student credit union and financial literacy to their school. By depositing funds into their accounts, students learn the importance of building a healthy habit of saving for the future. 
After the speeches, the student tellers joined the team in cutting the ribbon, marking the official opening for the Bobcats.
"It's very rewarding working with these young students to teach them how starting with a deposit as little as $1 can grow," commented Karol Behrle. "Our student credit unions provide the students the chance to deposit money into their accounts and get them excited about saving for future life stages."
Honor Student Credit Unions
Our Student Credit Union program is a great way for students to increase their financial literacy and gain valuable work experience. Our program allows for students to run an actual credit union in their school, which provides a convenient banking location for both students and staff, all while students gain a wide range of experience.
Honor has partnered with schools for over 20 years and currently operates 20 student credit unions across its member center communities. The Bobcat Student Credit Union will be open to students to make deposits into their accounts every other Wednesday from 8:30-9:00 am. The team at Honor is looking forward to getting to know the students here at Brandywine and helping students work towards a successful financial future!
Honor Credit Union is proud to serve more than 99,000 members across the State of Michigan.  Providing solutions for your financial success and giving back to the communities we serve remain the driving forces behind Honor Credit Union.  For more information, call 800.442.2800, or visit staging.honorcu.com.
###
MEDIA CONTACT
Kayla Smith
Brand Specialist
kasmith@honorcu.com
800.442.2800 ext. 9205
For every Wildcat goal scored during a home game this NMU Hockey season, Honor donated $100 to a designated non-profit organization, with a minimum of $300 per game.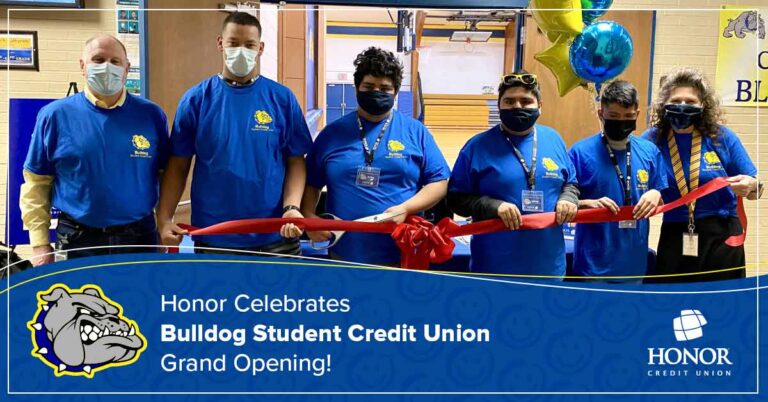 Covert Public Schools celebrated the grand opening and ribbon cutting of the Bulldog Student Credit Union on Tuesday, January 18th, 2022.