Estimate your monthly car loan payment
We want you to be as prepared as possible when you're shopping for your next car or truck. Use our calculator below to help you determine your monthly payment, so you know how much you can afford. 
Autos, Light Trucks & Road Cycles

Effective Date: Nov 27, 2020

Term
rates as low as
Up to 48 months
3.04% APR*
49 - 60 months
3.24% APR*
61 - 75 months
3.54% APR*
76 - 84 months
4.54% APR*
85 - 96 months
5.89% APR*
Payment Example: $20,000 at 3.24% APR* for 60 months equals $333.31.

*APR = Annual Percentage Rate. Advertised stated rates reflect 0.25% APR* rate discount for borrowers with credit score of 750+ at time of loan application. 61-75 month financing requires a minimum loan amount of $10,000.00. 76-84 month financing requires a minimum loan amount of $20,000. 85 - 96 month financing requires a minimum loan amount of $30,000.00.
Apply Now or Get Pre-Approved
Ready to start the auto loan application or pre-approval process? Great. It only takes a few minutes. Let's go!
If you paid a little extra on your loan each month, use our early payoff calculator to determine how much faster you could pay off your auto loan.
Members and non-members can refinance an auto loan held at another financial institution and receive 1.00% cash back up to $300 cash back.* PLUS, you can make no payments for 90 days!*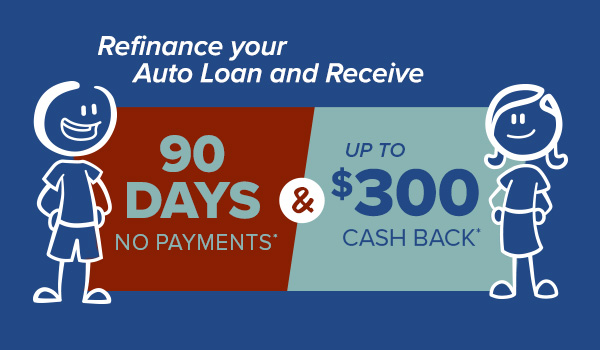 Cash Back Offer: 1.00% cash back is calculated based on the final total funded loan amount, excluding any ancillary products, with a maximum payout of $300.00. Minimum loan amount required to earn cash back bonus is $5,000.00. Cash back bonus will be paid out upon execution of final loan agreement. Deferred Payment Offer: Interest will accrue during 90-day deferment period. First payment must be made beginning in the 4th month, on the due date disclosed in the loan agreement. New auto purchases excluded, refinances only. Current loans held here at Honor ineligible. Offer subject to change without notice. This is a gift, please consult your tax advisor. Not valid with any other offer. Certain restrictions apply. Subject to credit approval. Limited time offer. Insured By NCUA.
Auto Loans
Enjoy competitive rates and a simple application or pre-approval process that only takes a few minutes!
Recreational Vehicle Loans
Whether it's a boat, trailer, motorcycle, or other recreational vehicle, finance your fun at Honor!