Cindy Ritz Announced As Community Assistant VP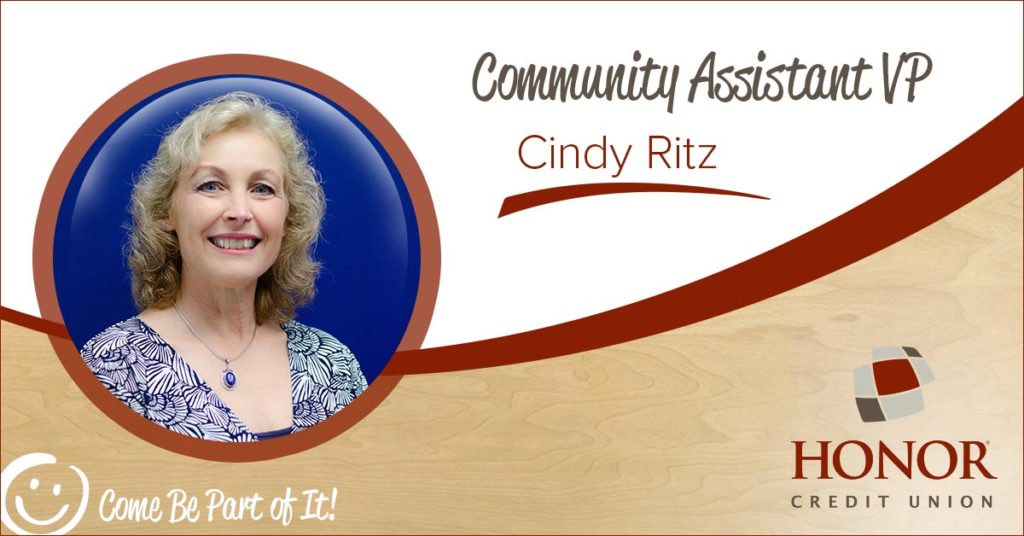 BERRIEN SPRINGS, MICHIGAN – June 17, 2019 – Honor Credit Union is excited to announce the internal promotion of Cindy Ritz. Formerly serving as Member Center Manager, Ritz recently accepted the role of Community Assistant Vice President for the Allegan, Otsego, and Plainwell areas.
Originally from South Bend, Indiana, Ritz has resided in Lawton, Michigan since 1995 near her 31-year-old son, Paul Van Schoyck, and his girlfriend, Leslie Provost. Ritz has trained in Tae Kwon Do for 12 years, received her black belt in 2013, and currently teaches at Chung's Martial Arts Academy in Mattawan, which is owned by her son. In her spare time, Ritz enjoys bicycling on the many bike trails in Michigan and throughout the country.
Ritz began her career at Honor Credit Union in June of 2018 as the Plainwell Member Center Manager. In her new position, she brings entrepreneur experience, which she obtained as a former co-owner and president of several businesses in Southwest Michigan. As a Community Assistant Vice President, Ritz will have the opportunity to become more involved in her communities, with being active in their Downtown Development Authority revitalization efforts, supporting small businesses, volunteering for non-profit organizations that provide helpful services to residents and teaching financial workshops to students and adults.
As part of the Member Experience Team, the Community Assistant Vice President works closely with Honor's Member Center Managers, Business Services, and Real Estate teams to create relationships, serve the community, and act as a connector to provide members with financial solutions for success. As a CAVP, Ritz will be heavily involved in supporting community organizations and building business partnerships.
"Helping a community become economically sound creates a thriving, successful, and healthy place to live," commented Ritz.  "I share Honor's values and beliefs in putting people first and look forward to inspiring and encouraging our community members to achieve their financial goals. I'm so excited to connect with my communities, show them the value I see in an Honor membership, and share the passion I have always had for Honor Credit Union."
Honor Credit Union is proud to serve more than 85,000 members across the State of Michigan.  Providing solutions for financial success and giving back to the communities it serves remains the driving forces behind Honor Credit Union.  For more information, call 800.442.2800, or visit staging.honorcu.com.
###
MEDIA CONTACT
Halee Niemi
Public Relations Specialist
hniemi@honorcu.com
800-442-2800, ext. 9501